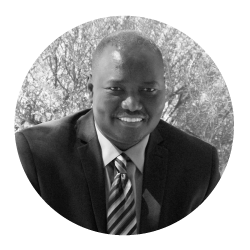 Kuol Awan
Kuol was born in a small village called Chiir in southern Sudan. When the war intensified in 1987, he fled his home and began a journey that spanned thousands of miles. He traveled to Ethiopia, Kenya and, finally in June 2001, to the United States. Kuol first served his community of Lost Boys and Girls as a community organizer and leader in Ethiopia when he was 9 years old. He also served as president of the Lost Boys Association in Salt Lake City and was elected to the National Lost Boys Association. Kuol holds a Bachelor's Degree in Psychology from the University of Utah and a Master's Degree in Social Justice and Human Rights from Arizona State University. Kuol joined the Lost Boys Center for Leadership Development as an Outreach Manager in 2008 and became Executive Director in 2009. He and his wife, Atoch live in Phoenix with their three children.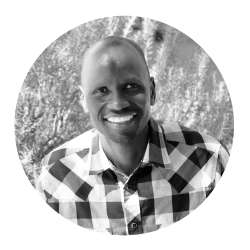 Jany Deng
Jany was born in 1975 in the small town of Jokau, located in Southern Sudan. He enjoyed a happy childhood until the Civil War broke out in 1983, changing his life forever. When Jany saw the first fire in his village, he knew he couldn't go back because he wouldn't survive. He started walking, not knowing where he was going, until he reached the border of Ethiopia, where he was resettled in a refugee camp and stayed for almost four years. After a Civil War broke out in Ethiopia, he returned to Southern Sudan and then went on to Kenya. In 1995, Jany was one of the first Lost Boys to come to the United States. Jany graduated from Arizona State University with a Bachelor's Degree in Social Work and is pursuing his MBA. Jany has been the Program Director at the Lost Boys Center for Leadership Development since 2003. Jany lives in Tempe with his daughter.
Marsha Henzler
Marsha has worked at the Lost Boys Center for Leadership Development since it first opened. In 2007, she left the Center to go to Buffalo, New York, where she worked as an immigration specialist assisting refugees from around the world obtain their green cards and citizenship, and arrange for relatives who were left behind to come to America. In 2013, Marsha returned to Arizona and is now working part-time at the Center. Marsha received her master's degree in human relations, education and counseling from Northern Arizona University.
William Paul Simmons, President
William is an associate professor in Gender and Women's Studies and Honors Interdisciplinary faculty at the University of Arizona. His research is highly interdisciplinary and uses theoretical, legal and empirical approaches to study social justice and human rights issues.
Rev. Dr. Thewodros [Ted] Asfaw
Ted Asfaw is an ordained Seventh-day Adventist minister. He is a native of Ethiopia and a naturalized American Citizen. In 2017, Rev. Dr. Asfaw was recruited and started his role of being the Director of Chaplain Services and Spiritual Care Department with the mission and vision of starting a new CPE Center in Phoenix at St. Joseph's Hospital and Medical Center Chaplain Services Department that serve the Dignity Health Arizona Service Area healthcare facilities.
Hakim Monykuer Awuok
Hakim Monykuer Awuok is a South Sudanese national and one of the former Lost Boys of Sudan. He holds a Bachelor's Degree in Public Administration from Kampala International University, Uganda. Hakim is currently a Deputy Director of Cabinet Resolutions working with the government of the Republic of South Sudan's Ministry of Cabinet Affairs.
David Cohen
David is a partner in the law firm of Jones, Skelton & Hochuli in Phoenix, Arizona. He serves on the firm's Management Committee, and is the head of the firm's Health Care Trial Group as well as the firm's Diversity & Inclusion Committee. David has always been devoted to social justice and human rights issues. He spends his free time volunteering with non-profit organizations, and enjoying life with his wife and three children.
Gatjeak Gew
Gatjeak immigrated to the U.S. as a young boy with his mother and siblings in the 1990s after being displaced due to the Sudanese civil war. The family settled in Nebraska and later moved to Minnesota, where he earned a Bachelor's of Science degree in Biology. Gatjeak also holds a Master of Arts degree in Human Rights Practice from the University of Arizona. He has worked on various social justice issues, including youth educational disparities, refugee and immigrant rights and health equity. Currently, Gatjeak is the Match Grant Program Manager at Arizona Immigrant and Refugee Services in Phoenix.
Chiengkuach Mabil Majok
Chiengkuach is one of the former Lost Boys who came to the U.S. in September 2003. He resettled in the state of Vermont, went to college there and graduated with a Bachelor's Degree in Economics in fall 2007. He earned his master's degree in International Economics and Finance in 2012. Soon after graduation, Chiengkuach took a position with the Deloitte Overseas Consulting, which eventually took him to South Sudan. He worked with them for nearly three years before the project ended at the conclusion of the Sudanese civil war.
Alier Reng
Alier is one of the former Lost Boys of Sudan. After migrating to the U.S., he obtained a Bachelor of Science in Neuroscience, a Master of Science in Professional Science, and an MBA in Information Systems Management. In 2018, Alier and six other Lost Boys and Lost Girls of Sudan established the Jonglei Institute of Technology, a nonprofit that aspires to train the next generation of South Sudanese data scientists and analysts, and to empower South Sudanese diaspora families by providing free financial literacy training, spiritual development and counseling.
Kuoth Wiel
Kuoth was born in Gambella Ethiopia to South Sudanese parents. As a child, her family traveled between Ethiopia and South Sudan due to her parents work as aid workers for the UN. The family settled in Ethiopia and later immigrated to the United States as refugees. Kuoth graduated from Augsburg College with a degree in Social Psychology. She is currently pursuing her career as an actress and model. She is using her voice for peace and empowerment in South Sudan through various initiatives. She co-founded the NyaEden Foundation and is the CEO of Janubi Naturals. She currently resides in Los Angeles.