You and I both know that the ongoing story of the Lost Boys is very important. So, I would like to take an opportunity to not only celebrate our successes, but also share our deep concerns for the future of our organization. This new year presents exciting opportunities for the center. However, limited resources challenge our ability to continue meaningful work in 2016.
Having our headquarters located in Phoenix has allowed us to support the local Sudanese refugee population in significant ways. Over the last decade, the center has been quite successful in offering ESL and citizenship classes, workforce readiness assistance and serving as a source of community for our refugee neighbors. Moving forward, we are excited to continue these programs to support the local Sudanese refugee community, while also participating in the rebuilding of their first home: South Sudan.
This past year our mission has grown to include groundwork in South Sudan. We have faced and overcome many obstacles. Notably, we commenced development of a training center in the capital of Juba, South Sudan. We have selected and secured the site. Now we need your help to build and staff the training facility.
The Lost Boys Center for Leadership Development in South Sudan will function much like our Phoenix headquarters serving as an educational facility as well as a community center. The Center will assist Lost Boys here in the United States, as well as returning diaspora, make meaningful contributions to the future of South Sudan. The Center will host training and workshops on the following topic areas, and several others:
Human rights education
Inter-generational trauma
Community development
Vocational skill building
Gender equality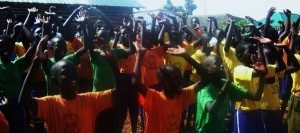 This programming was strategically chosen as a result of a meeting Kuol Awan, our executive director, had with the Minister of Education in South Sudan, along with our own needs assessment. However, we will be responsive to input from the local community in Juba, as well as seek opportunities to engage our Lost Boys family in distance-learning and mentor programs.
Through your ongoing support, the Lost Boys Center for Leadership Development has served as an important piece of the Lost Boys story. As you've read, our vision for the Juba center is just as intentional and important. With your continued support, we believe we can bring this programming to fruition and continue to be a strong presence in this story.
The Lost Boys story should not end here when there is so much to be done to ensure the future of South Sudan. Please help the Lost Boys complete their journey by helping them give back to their homeland!
As always, thank you for your continued support.
If you have any questions about the work of the Center, please don't hesitate to contact me or Kuol Awan at 602.262.2300. One of the current board members or I will follow up with an email or phone call to see if you have any questions about the current mission of the Center.
All my best,
Bill Simmons
President, Board of Directors, Lost Boys Center for Leadership Development
Associate Professor of Gender and Women's Studies
University of Arizona
[email protected]
480.388.0718 (cell)
www.williampaulsimmons.com