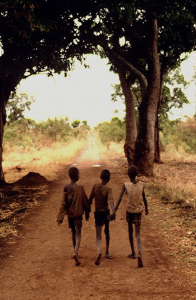 FOR ALL LOST BOYS AND GIRLS
Good news!!! The archives are now open for Lost Boys and Girls
to request your life story and photo when you were a child.
If you have not received your story/photo, send an email to:
2. Give all the names that your information could be filed under.
3. Send the name of the camp you were in as a child.
4. Write down the year(s) you were in the camp.
5. Type the city and state or country you are living in now.
6. Give us your telephone number in case we need to get in touch with you.
7. In case your email does not show, type your email address.
8. Give any other information that will help us locate your file.
If you know a Lost Boy or Girl, tell them about the archives being open now and
that they need to do the steps above to receive a copy of their life story and photo.